| | |
| --- | --- |
| | Peter Marklund's Home |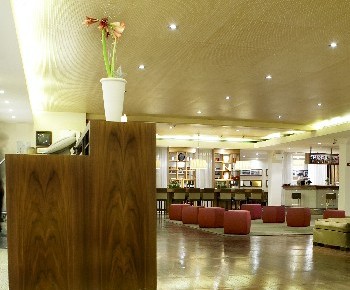 I enjoyed an exotic brunch today with my girlfriend at the flairful Amaranten hotel here on Kugsholmen in Stockholm. As you can see, the hotel lobby and restaurant is stylish and has a nice ambience. The buffet is offered at 160 SEK and is high quality with a good selection of meat such as chicken wings, spare ribs, bacon, and a number of more exotic dishes that I don't even know the name of :-) Some of the Cajun specialties didn't particularly speak to our taste but all in all it was quite good. On the minus side was the fact that the place was almost empty and one of the waitresses was not so service minded.
The atmosphere was enhanced by a house Jazz band - a trio on bass, drums, and piano. They performed professionally albeit somewhat uninspired, which is understandable given the lack of an engaged audience. We tried to cheer the band on by taking the initiative to applaud and I think this was appreciated.
I seem to have taken up an interest in luxury hotels lately - there is something fascinating about them. A couple of years ago I stayed with my girlfriend at the Grand hotel here in Stockholm - a very memorable and highly recommended experience. Recently I read in the paper about how the new Hotel Rival (owned by famed Benny Anderson of Abba) in Stockholm came in highest in scandinavia (at place ninety something) in a listing of the most luxurious hotels in the world. This sparked my interest and I have now booked a brunch there for the second of April and will spend the night with my girlfriend in one of their "de luxe" rooms. It's no exaggeration to say that I look forward to that...